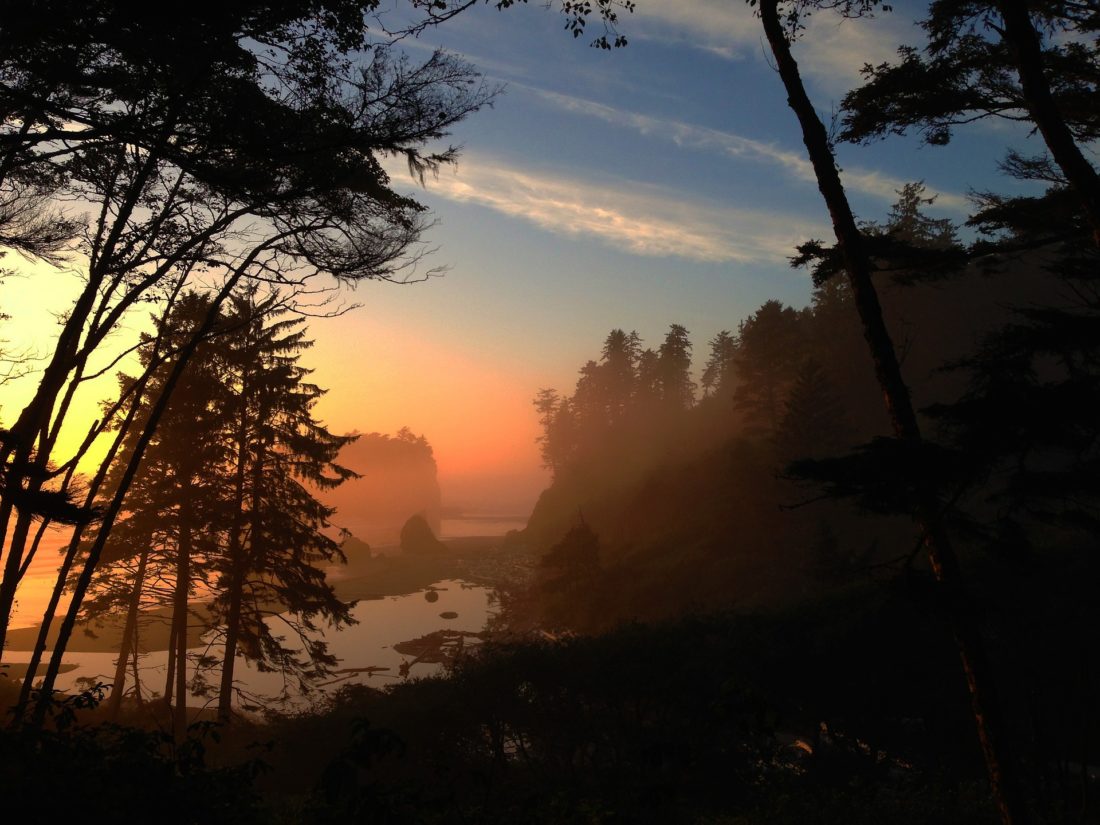 Whether you are a native to the Pacific Northwest, a recent transplant, or a tourist looking to experience the most on your trip, here are some of our favorite PaWest Coast weekend getaways that will leave you stunned by the natural beauty of America's majestic Pacific Northwest.
Olympic National Forest
Located just several hours from the thriving hipster city of Seattle, Olympic National Forest is one of America's few temperate rain forests. Don't let the rain scare you away, though, for those who venture into these magical woods will be treated to some of the most spectacular view on the west coast. The forest is located on the Olympic Peninsula and highlights the dramatic rise from calm dark blue sea water to the snowy mountain peaks. Few places over this amount of geographic diversity in such a small area. If you are lucky you may even spot some of the parks giant elk, mountain goats, or black bears. Whether you are camping out or just going for a daylong hike, Olympic National Forest is one of our top PaWest coast weekend getaways.

Highway 101
The legendary Highway 101 has long been a metaphor for the freedom of the West Coast. This seaside highway starts in Olympia Washington and follows the ocean all the way to southern California. Also known as the Pacific Coast Highway. While the length of Highway 101 comes in a whopping 1,500 miles; making it a bit much for a PaWest Coast weekend getaway, the section starting in Northen California can be a spectacular and scenic drive. Imagine driving across San Francisco's iconic Golden Gate Bridget, touring the massive old growth forests of Humboldt state park (including the photo-perfect drive-through tree,) Oregon's picturesque Haystack Rock, the delicious Tillamook cheese factory, or the cinematically famous (thanks to the 80's cult classic Goonies) Astoria. All of these destinations and so many more are accessible through weekend trips on the north end of highway 101. So what are you waiting for?
Eastern Wineries
Longtime Portland and Seattle residents know that if they want to escape the rain and have a glass (or several) of fine wine they need go no further than east of the Cascade mountains. In less than 5 hours the hazy, gray, and rainy turns to a dry highland desert of eastern Washington and Oregon. The wineries of this region are famous for the quality and provide a high-class experience without the costs and pretentiousness of some of its Californian neighbors. Whether are you in Walla Walla, Rogue Valley, or Lake Chelan; there is much more to do than just drink wine (though do you really need anything else?) The clean and vast rivers, excellent selection of lodgings, and world-class entertainment thanks to the Gorge Amphitheatre, make heading east  one of our favorite PaWest Coast weekend getaways.
Whether you are into seaside mountains, camping, drinking fine wines, or blasting down the beach highway with the top down, these PaWest coast weekend getaways are sure to have you forgetting about the office in no time.